Just do it yourself.
Knitting
I knitted this cardigan for my daughter in 1998 for her 37 year old birthday.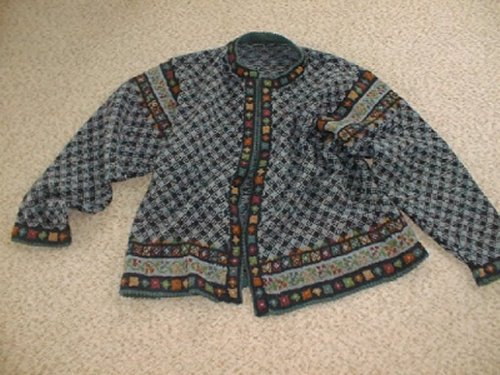 Upholstering furniture
Yess! Why not ?
My 16 years old sofa and armchair was wornout. It really needed to be replaced. It was very expensive to have it done. For less money I could buy a new one. But I don't like througing things away ... and I liked that sofa and armchair.. so I went to a store and bought American Scotchgard fabric 2 years ago... Not until this year in August I started cutting off the buttons and taking off the old wornout fabric. Now there was no way back. Here you see it before I started my little project
The old fabric was used as a pattern. I had new buttons made. Imagine, there are 100 buttons on these 2 pieces of furniture... After about 14 days I felt I had got a new sofa and armchiar... and there was enough fabric for a nice tablecloth too.
Here you see the result...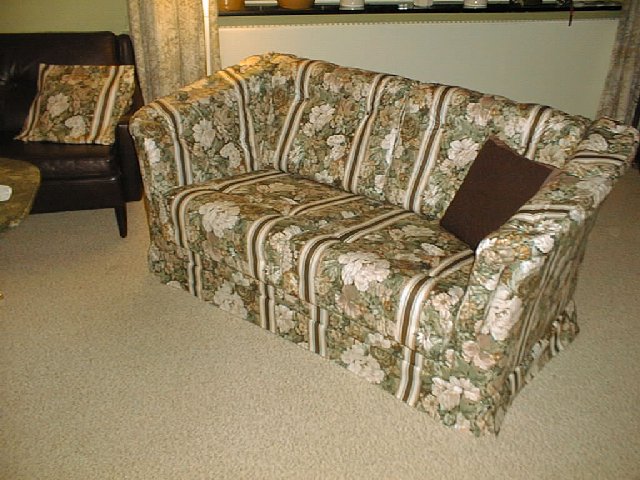 Weaving
Curtains for the kitchen
I have always wanted to lean weaving. Not until I stopped working as a doctors secretary I started learning this. I have been so pleased to do it. I have weaved fabric for shirts for Hans, the ones he liked to wear most.
In 1988 we restored our house and had new windows. I needed new curtains and had to make 15 meters of fabric for them
The yarn was bought in Sweden once we went on a wonderful trip to till Blomquist i Fritsla. Sweden is such a beautiful country and a trip like this is possible to do on one day by ferry and our own car. Fritsla is a couple of hours drive south from Goetheborg.
I also weaved several blankets

Broidery
Denmark
This broidery was started many years ago in the 1950. There was a picture on an old magazine called "Tidens kvinder" (the women of the time) that doesn't exist anymore. I made it after that but it was finished many years after I started making it. This year in February 1998 I visited my aunt in TRINIDAD. I gave it to her, so now the map is on her wall in TRINIDAD, I think.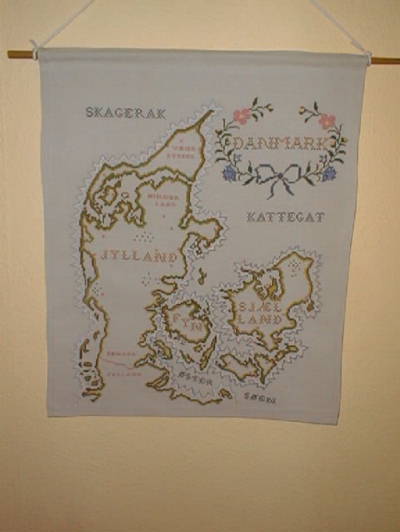 The months
Made in 1976
Wild flower
This wallhanging is made in 1981
Pottery
Leaves and a vase
In 1960-70 I made some pottery.